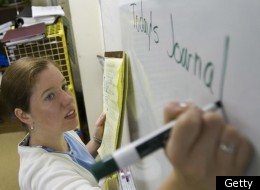 If teacher layoffs had been this chronic when I first entered teaching, I still would have gone into the classroom. Despite the fact that teachers have been the whipping boy for the past several years, teaching is not just a profession but a calling.
Last year I mentored a student teacher in my classroom. I knew and she also knew that finding a steady job would be difficult. However, the pink slip deterrent didn't stunt the creativity of this would-be teacher.
I hope that teaching will not become the job of last resort to these incredible up-and-com
­ing teachers, but it will continue to be the place where creativity and passion can still exist!
Read the Article at HuffingtonPost